If you love Coca-Cola,
you'll love the Biedenharn
Coca-Cola Museum
WE ARE OPEN! COME SEE US!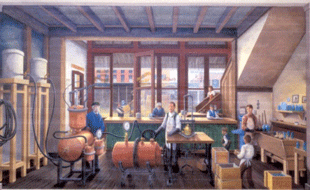 Where Coca-Cola was
first bottled in 1894!!
The Biedenharn Coca-Cola Museum features the history of one of the Nation's beloved beverages, along with equipment of the type that Joseph Biedenharn used to bottle Coke for the first time anywhere in the world in 1894.
A wide variety of original Coca-Cola advertising and memorabilia is on display to allow the visitor to follow the evolution of "The Pause That Refreshes!"
The restored candy store and office area will take you back to a simpler, sweeter time with furnishings and displays from the 1890s. We offer our visitors ice cream, fountain Cokes, Coke floats and a wide selection of Coke souvenirs.

Are You A Coke Whiz?
Take the Coke Quiz!
Several different tests try your knowledge of Coke and Coke history
Stay in Touch !
Send us your e-mail
and we will keep you informed.
We do not share your e-mail addresses!
Did you know the design of the Coke bottle was based on a mistake? (more)
70+ Coke Rumors Solved!
All rumors associated
with Coca-Cola
Coca-Cola and Coke are registered trademarks of The Coca-Cola Company